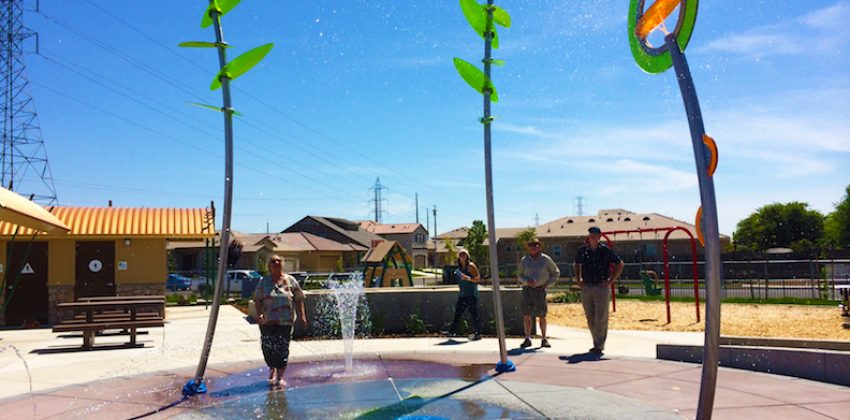 June 10, 2014 6:59 pm
Last week, Ross Recreation Staff traveled to Sunridge Park in Rancho Cordova near Sacramento to see our newest Vortex Splashpad, and to get in-depth product training from Kevin Spence, Vortex' lead systems' engineer and Western Regional manager. Present with Kevin at the training were Judy Ogburn, Tara Bartosch, Alex Hailey, Casey Hilbert, Bob Hanes, Ross' Vortex- certified Construction Manager, and Theo Knaeble who lives nearby and manages Sacramento Valley accounts for Ross Recreation.
Later in the day, the City of Rancho Cordova's maintenance department was invited out to the park to receive hands-on training on the new splashpad. Ross and Vortex provide end-user training after all new splashpad installations to ensure optimum product performance, longevity, and ease of use and operation.
The new splashpad at Sunridge Park features Vortex' unique Spraypoint system, and is the first of a number of new Vortex splashpads scheduled to come online in 2014. The Sunridge Park splashpad features a water recirculation system. A recirculation system is a great option for water conservation, disinfecting and sanitizing the water before being distributed once again to the play features.
Other Vortex splashpads will be starting up soon in Gilroy, Klamath Falls, Sunnyvale, and San Ramon. Come out and see one near you, and see why splashpads are the most in-demand park amenity according to polls by the National Recreation and Park Association.