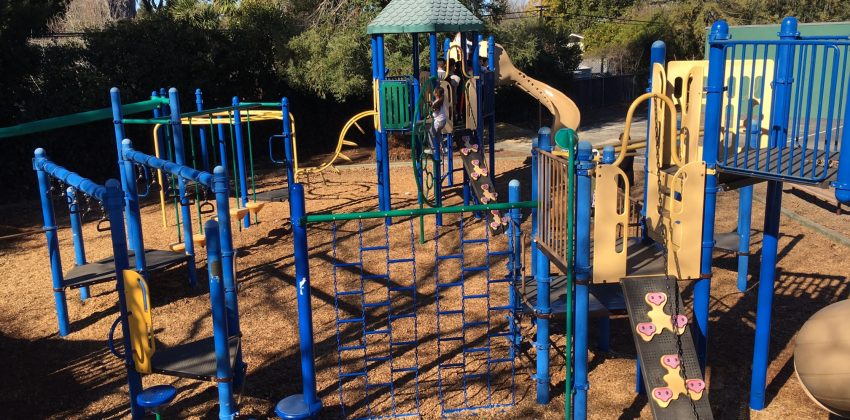 February 21, 2017 4:55 pm
One of my earliest meetings in 2017 was at Oak Avenue Elementary School in Los Altos, California, to discuss the expansion and enhancement of the existing kindergarten playground.
Oak Avenue remains a special place for me because it was one of my earliest experiences organizing a parent volunteer group for the installation over a single day of a large Landscape Structures playstructure.  It was also one of my earliest collaborations with Landscape Structures, developing a master plan for the school's then PTA showing how to build out their new playground in phases, as funds allowed.
That original Phase 1 playstructure, built by parents in 1987, still stands almost thirty years later, cosmetically worn in certain areas, but structurally rock solid and still offering students a great play space.  After Phase 1, subsequent PTA's added four additional phases to the play area over the the ensuing years, the latest being the much-loved Eclipse net climber dubbed "The Beehive" by students and teachers.
At my January meeting, I couldn't help but think of the thousands of kids that have used that playground over the years.  That first phase equipment cost $20,000 in 1987, and aside from minor modifications due to new access and safety standards, the District has spent very little to maintain the playground, a solid investment and a source of fitness, learning and fun for generations of Oak Avenue students.
~ Ewing Philbin, Owner of Ross Recreation