OUR APPROACH IS FULL-CIRCLE
We add value to projects of all shapes and sizes by offering a full-circle approach to park and playground implementation. Our experienced, committed staff provide expert design solutions, and follow-through with precise and reliable planning strategies. The end-result is a recreation site that provides durable, creative and safe outdoor fun for decades.
PROJECT PLANNING

We realize that every park and playground project is unique and special to those involved. With a keen awareness of the critical role played by a project's master plan, Ross Recreation brings to the planning process nearly forty years of experience in site analysis, needs assessment, and regulatory issues.
With our industry skills and knowledge, and our network of innovative product manufacturers, we maintain a flexible approach to each project, playing whatever role necessary to fit into your budget and needs. For playground ideas and projects, we can offer an expanded role and create the actual master plan for your site, always keeping in mind how the site's users will best experience the sensory-rich environment.
In all of the work we do, we are sensitive to the capital investment required for park and playground projects, and can advise on ways to phase the implementation of the project to match budget goals.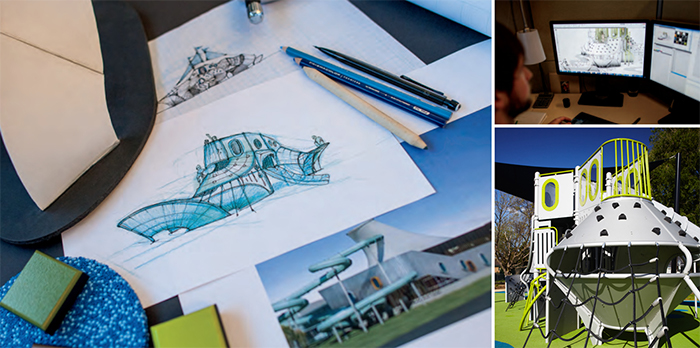 INNOVATIVE DESIGN

Whether your project is a sports complex, a housing development, a schoolyard, or a splashpad, successful projects begin with a well-thought-out design. At Ross Recreation, we have over forty years of experience designing for parks and playgrounds of all shapes and sizes. We add value to the design process by making suggestions that offer a creative, safe and fun recreation site for the user in mind. For example, when we design for playgrounds, we aim to engage the varied sensory requirements of multiple age groups of children, including tactile, proprioceptive, vestibular, visual, auditory and social/imaginative. In short, we design for all kids.
We combine our years of experience with the latest technology to give you a vision of your project before we even break ground. Computer aided design software allows us to present a clear playground picture of the intended environment from almost any angle. These computerized drawings provide visual goals for the team as the project progresses. The drawings also serve as valuable tools when presenting to project stakeholders, parents and community groups, and other participants or vendors.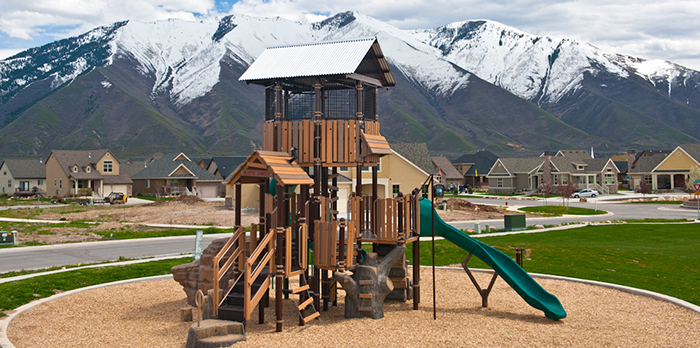 LIFE-CYCLE COSTING

Historically, big investments such as playgrounds and parks were evaluated on their initial purchase price. Today, many municipalities and school districts evaluate the capital requirements of a playground and park using Life-Cycle Cost Analysis (LCCA). LCCA encompasses initial purchase price AND the cost to repair, replace and maintain equipment. It is a full-circle perspective toward budget-planning. More than ever, quality matters.
Many of our structures are twenty-years old and serve as examples of how our products apply to the LCCA approach to budget planning. Because our products last longer due to superior craftsmanship, they demonstrate that opting for a higher quality product upfront can be financially beneficial in the long-term.
In addition to offering highly durable products, we routinely extend the life of a structure beyond twenty years through thoughtful retrofits and proper maintenance, lowering the cost of ownership for cities and schools alike.
EXTENDING THE LIFE OF PLAYGROUNDS USING COST-EFFECTIVE DESIGN SOLUTIONS 
We are experts at implementing retrofit strategies that extend the life of our parks and playgrounds. By adding updated components, we are able to extend the life of play equipment, offering lower ownership costs and less impact on landfills.

WHY RETROFIT?

Retrofitting an existing play area or structure with new components can be a cost-effective alternative to replacing an entire site. Thanks to the lasting quality of our products, Ross Recreation routinely retrofits structures for municipalities and school districts that are over 20 years old, extending the structure's life for many more years.
Understanding the potential for retrofit assists communities as they look at the cost of ownership. Our products last a very long time and have great warranties. Our longevity as a Company assures you that we will be able to change components or update your structure well into the future.
In partnership with Landscape Structures, we will work with you to create a Retrofit Plan that will bring your current playstructure up to current ASTM & ADA codes and standards, and add new play features guaranteed to enhance your play area.
WE ARE FULL SERVICE SPECIALTY CONTRACTORS
Our construction services are designed to support each phase of a project's vision.  Our team of experienced project managers and expert certified installers make the process of completing a project streamlined, on budget, on schedule and ultimately, a success.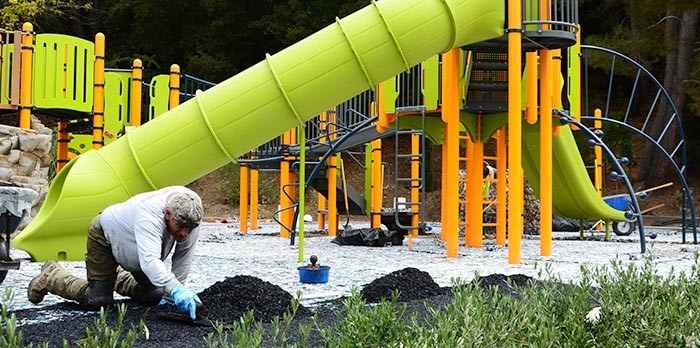 CONSTRUCTION SERVICES

Ross Recreation is a specialty contractor in California and Oregon, providing full-service playground and park installation and construction solutions for both public and private projects. Unlike other companies, our staff goes beyond project design and supply to offer a turnkey option to include installation and construction services to deliver a fully complete project from start to finish. We are fully licensed, bonded and insured in both California and Oregon.
Our construction services include:
Site assessment, mobilization, permitting and engineering solutions.
Site preparation including demolition, excavation, grading and utility work
Factory certified installation crews with over twenty-five years of experience building playgrounds.
Construction and installation of site specific amenities, including landscape and concrete features, along with playgrounds, surfacing, shelters and site furnishings.
A deep understanding and extensive experience with public sector projects and the many unique facets involved with such projects.
AFTER SALE SUPPORT & COMMUNITY

At Ross Recreation, we stay in touch long after the initial installation. We are here for you long after your project has been completed, ready to help with everything from general maintenance advice to warranty issues, replacement parts to full-scale retrofits. We also are experts in helping you stay up-to-date with state and federal safety, accessibility and compliance regulations.
Ross Recreation has participated in hundreds of community build projects throughout California and Oregon. Community involvement is a great way to construct your project and can not only be a source of fun and community engagement, volunteer builds are a cost-saving alternative to traditional installations. Ross Recreation can provide equipment layout and site prep prior to the day of the build, as well as added guidance and on-site coordination during the actual build phase.
With over thirty years of providing turnkey construction projects and phased installations, our flexible services and knowhow provide guidance and execution through every step of a project to ensure a successful build with the highest level of quality and attention to detail. Let us help you build your community.
SIMPLIFY AND EXPEDITE THE PURCHASING PROCESS
We are proud to be able to offer various purchasing contracts to help your project be completed quickly and most effectively. These contracts are nationally available, competitively bid, government-to-goverment procurement services and are only available to public agencies. Through these contracts we can offer the best pricing on all of our products and services while meeting your bid law requirements.
Time Savings – fulfill your bid requirements quickly and efficiently
Money Savings – no costs or fees to participate and no minimum spending requirements
Complete Control – get the quality and design you expect on your project
Turnkey Solutions – the ability to include all products and scope of work under one contract
Utilizing a purchasing contract will allow you to have more control over the project and ensure that all products are designed and executed exactly to your standards.