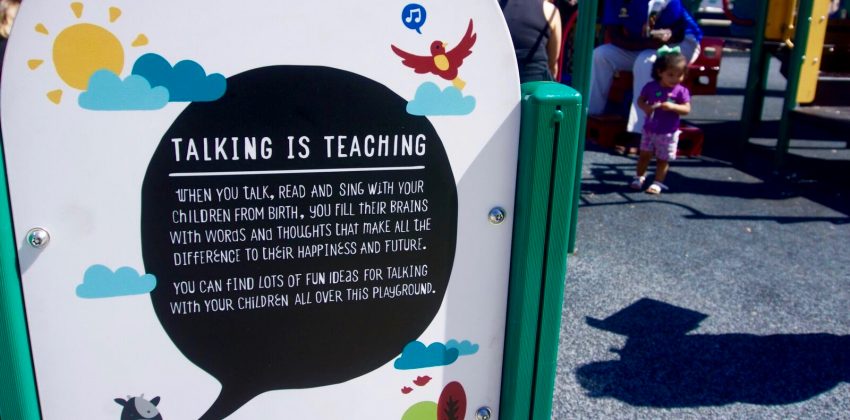 October 11, 2016 8:02 pm
As a part of our partnership with Landscape Structures and Too Small to Fail, Ross Recreation was thrilled to participate in launching the first public early literacy playground in Oakland at Willie Wilkins Park. Ross Recreation installed this playground in East Oakland in 2010 where it has served the surrounding community ever since. The toddler structure is a rainbow of colors and already included various activity panels to engage children, but as a part of our partnership with Too Small to Fail, we added conversation panels intended to promote children's early language literacy. The panels include vibrant imagery and prompts such as "Let's Talk About Food" and "Let's Talk About Feelings" to stimulate dialogue between parents and their young preschoolers. The playground at Willie Wilkins Park now incorporates the Talking is Teaching materials into playground signage to prompt fun conversations, stories and songs while parents and children play together.
Willie Wilkins is the first public playground in Northern California that is a part of the "Talking is Teaching: Talk, Read, Sing" campaign and the event at the park was part of a larger kick off for the overall program in the Oakland community. In addition to Landscape Structures' and Ross Recreation's commitment to the "Play Time is Talk Time" portion of the early literacy program, Too Small To Fail has partnered with many other local organizations to help Oakland's youngest residents achieve their highest goals. Included as additional partners in this event were Oakland Mayor Libby Schaaf, First 5 Alameda, the Golden State Warriors and UCSF Benioff Children's Hospital of Oakland, among many others. 
As children and parents from the surrounding community filed into the park, they were excited to see what the day would hold. With talking, reading and singing at the heart of this program, it was only right that all three were included elements for the young attendees. In addition to lots of fun playtime on the updated play structure, the kids were first treated to music time where they were able to sing along with hip hop kids group Alphabet Rockers, who promote children's learning and literacy through hip hop music. Following that, Golden State Warrior Adonal Foyle spent time playing with the kids and hosting story time, reading his children's book Too Tall Foyle to the kids as they all sat around the playground. 
Ross Recreation is proud to work with organizations such as Too Small To Fail to support our youngest community members and are thrilled that our playgrounds are able to have such an impact. They say that playgrounds are the first classrooms for children, and so we feel it is only appropriate that we do all we can to let our fun filled "classrooms" help children achieve and thrive.